Diamond -
The Versatile Beauty
Aside from the iconic colourless diamonds, both brown and black diamonds have gained prominence in recent years. Equally as exquisite and elegant, their beauty is sure to mesmerize.
A brown diamond's colour tone complements Asians' skin perfectly. When paired with yellow gold or rose gold, these diamonds will bring out an added layer of grace.
Black diamonds encapture the best of one's self-confidence, and flaunts your unique personality and edginess.
View collection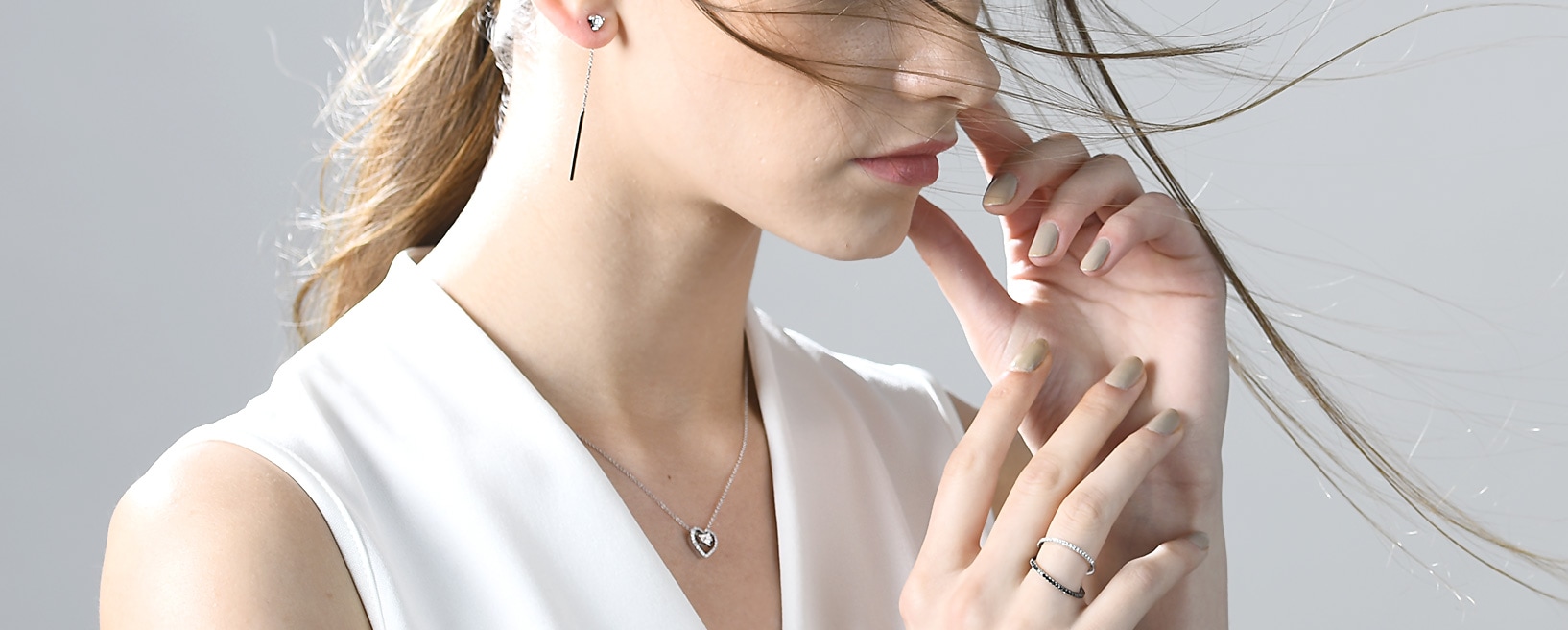 Three meticulously cut diamonds form a heart - making this collection as expressive as it is fashionable.
Every Infini Love Diamond features exquisite symmetry, capturing light from every direction.
Pearl -
Tenderly Graceful
Every pearl is a precious gift of mother nature. Moulded to perfection in the ocean over a long period of time, these perfectly rounded pieces exude fine intricacy and delicate grace.
The years that have taken to let nature refine its form make the pearl a subdued stylish piece of beauty that breathes new life when worn.
Regardless if it's a formal or casual occasion, any pearl accessory will add the right amount of elegance to match your overall look.
The Tahitian black pearl exudes a hint of malachite green on its surface, bringing out alluring elegance.
Pink Sapphire -
Sweet Romance
The sweet and girlish charm of the colour pink is the perfect visual representation of romance.
Among all the colours in the chromatic chart, pink best epitomizes innocent romance and unconditional love.
While all the other stones in the corundum family are classified as sapphire, only the red corundum has its personalised name – ruby. This is why a pink corundum is called a pink sapphire.
The youthful exuberance of floral and heart-shaped accessories are well-suited gestures of romance.
Amethyst is the February birthstone that embodies sincerity, ntelligence and wild imagination. This jewel is perfect for the elegant woman who has a passion for the arts.
Tiny creatures, such as kittens, squirrels, fawns and angels, set with amethyst stones, bring out boundless fun and liveliness to your appearance.
With amethyst as the focus, a colourful fashion statement shines through when paired with other gems.
Amethyst is the February birthstone, embodying the essence of kindness, loyalty, perseverance and sincerity.
Among all of Earth's splendour, ruby possesses the most intense colour of red and is one of the five most precious stones in the world. Ruby represents eternity, faithfulness and everlasting love.
Numerous celebrities love ruby, including golden cinema's leading lady Elizabeth Taylor, star of Cleopatra and many other iconic films.
The highest quality of ruby, Pigeon's Blood, is metaphorically known as burning fire and running blood.
Black Chalcedony -
Enigmatic Elegance
The rich and shiny presence that its colour tone gives off makes black chalcedony exude an enigmatic allure. Elegance is elevated when matched with the extravagance of gold.
The creation of g* Collection is inspired by the geometric style of Art Deco, integrating neat and simple lines with fashionable designs.
A subtle texture of fine lines on gold with black chalcedony to capture subtlety and magnificence.
The distinct traits of black chalcedony boost the jewellery accessory from a supporting role to the main attraction, accentuating one's feminine charm.